Acrylic

pieces

We create three dimensional, carved acrylic pieces to commemorate or idolize anyone or anything. They are offered stand alone, on custom bases or on LED light bases. The pieces can be of anyone or anything that is important to you. They could be for presentations, trophies, gifts, collectables or keepsakes. They can be engraved with personal information such as names, dates, occasions, etc.

The following are only a few examples of what can be done. What can be carved into acrylic is limited only by your imagination. Contact us to discuss your ideas.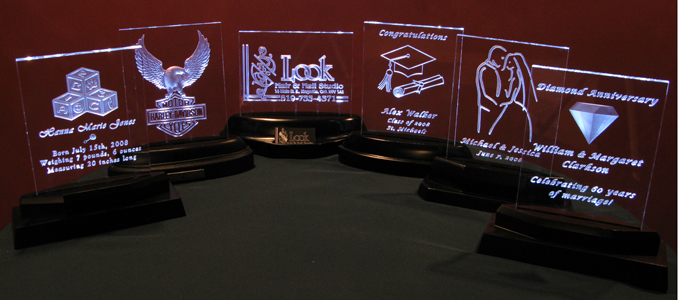 ---
Business Card Displays - Elegantly display your company logo and your business cards on this beautiful custom carved acrylic sculpture set in an illuminated base with an integrated business card holder. The base is 14" long by 6" deep and illuminates the acrylic with LEDs. We will custom carve your logo or your business card or whatever you wish on the acrylic piece. Show your customers that you are a quality company by proudly displaying this breathtaking acrylic sculpture and business card holder at your customer reception area.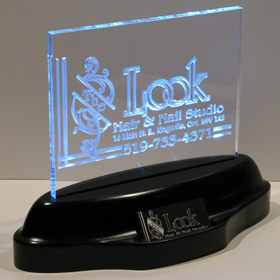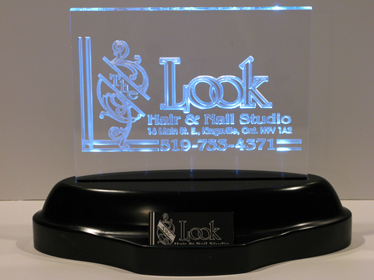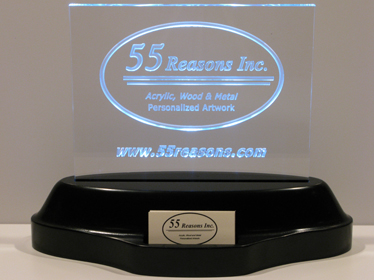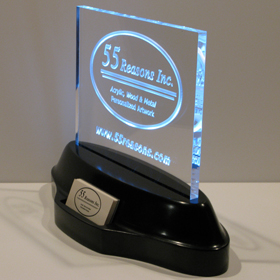 As an option, we can now offer your business card holder lit in various colors.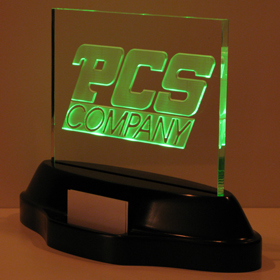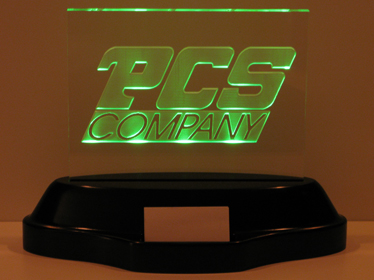 ---
High End, Illuminated Awards - When you want your awards to be unique, cherished and sought after. The example shown here was created for a utility company to reward establishments for their energy conservation efforts. This "GreenStar Award Of Excellence" was custom made into a star and lit in green with LEDs.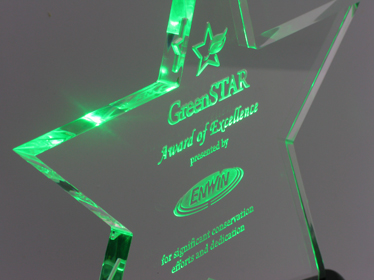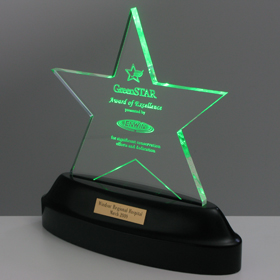 ---
Acrylic Gifts and Keepsakes - This is an 8" x 10" x 1/2" thick acrylic piece that has been carved out on the backside and set in an LED light base to illuminate the carving with a very dramatic effect. This example shows how we can take a photograph and turn it into a unique, personal, three dimensional keepsake.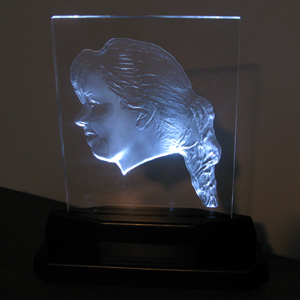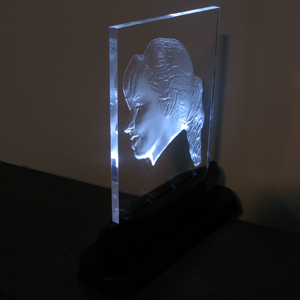 We created the above keepsake from this photograph of someone's grandaughter ...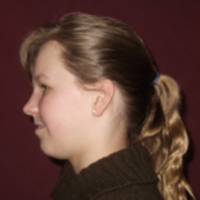 ---
Wedding Announcements - This 8" x 10" x 1/2" thick, LED illuminated acrylic piece was displayed at the head table with the wedding cake but will forever remind the couple of their special day.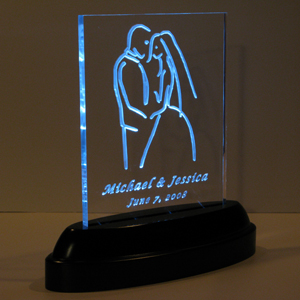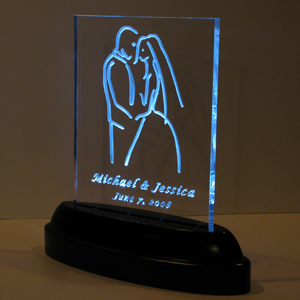 ---
Birth Announcements - This 8" x 10" x 1/2" thick, LED illuminated acrylic piece is an elegant reminder of a very special event.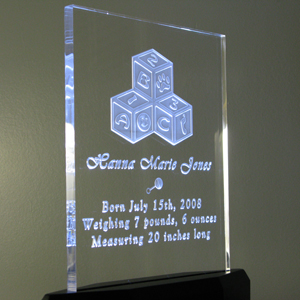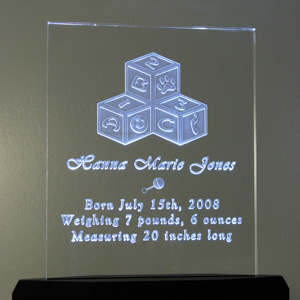 ---
Graduations - These 8" x 10" x 1/2" thick, LED illuminated acrylic pieces can be modified for any type of graduation. It can be male or female and can even include 3D institutional logos.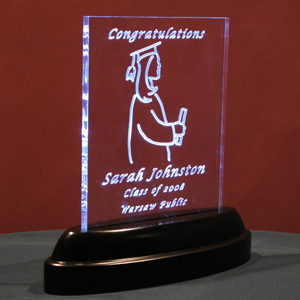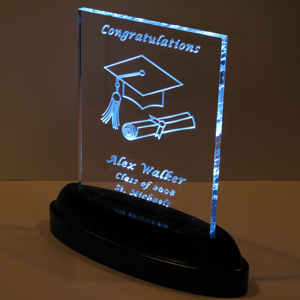 ---
Other Examples to Provoke Your Imagination - Here are more 8" x 10" x 1/2" thick acrylic pieces that have been carved out on the backside and set in LED light bases. As options, we can lite your acrylic sculpture in color and/or we can customize your base. These pieces are examples for inspiration only. 55 Reasons Inc. creates unique, one of a kind acrylic scultures to customer order. We do not hold licenses to produce copyrighted material.